New Power Electronics for a Brighter Future
New technologies for use in next-generation photovoltaic inverters are in development and undergoing practical testing as part of the GaN-HighPower project.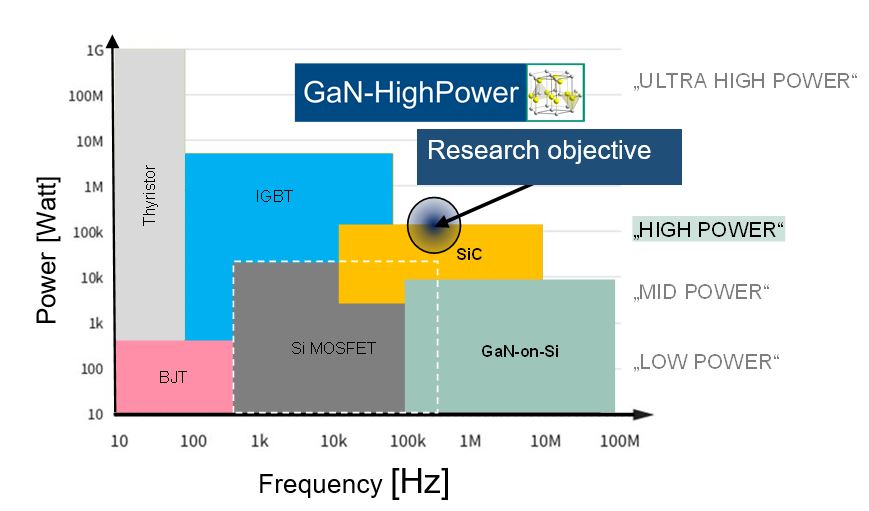 Photovoltaics (PV) is becoming increasingly relevant as a sustainable and affordable supply of energy in the wake of the global energy transition. In addition to the ongoing need for cost reductions, there is also a growing requirement for the increased functionality of devices against this backdrop. By way of example, technological solutions are required for this, which — alongside supplying power produced to the European grid system — also allow PV systems to actively contribute to stabilizing the grid. Microgrid applications and use in environments with different requirements across the world, i.e., in European or North American grid systems, should be made possible using new hardware and software for PV inverters. A consortium made up of three technology companies, two universities and a research institute have been working on these and other challenges since May 2021, and will continue their work until April 2024.
SMA Solar Technology AG, one of the world's leading manufacturers of PV and battery inverters and a specialist in PV system solutions, is representing inverter technology from the point of view of a manufacturer. "The aim of the GaN-HighPower joint research project is to prepare the next generation of cost-effective, resource-saving and efficient converters for photovoltaic applications. In the process of this, we are focusing on high-power string inverters," says Dr. Klaus Rigbers, Head of Power Electronics at the Innovation Center at SMA. "This project will explore and test the use of the latest technologies for PV inverters to enable cost and weight reduction while maintaining very high efficiency."
Infineon Technologies AG is bringing one of these new technologies to the table. To this end, research into the use of gallium nitride-based (GaN) semiconductors in high power applications, such as those required for PV inverters, is being carried out for the first time. "Previously, the application of GaN technology has been limited to much smaller power ranges. In this instance, we have already shown that GaN semiconductors enable a faster and therefore more efficient switching process than silicon carbide (SiC) technology and even more so than traditional silicon (Si) components. As part of the project, research will be conducted into the extent to which the previous limits of GaN technology can be expanded," explains Dr. Peter Friedrichs, Vice President Division Industrial Power Control at Infineon.
Vacuumschmelze GmbH & Co. KG (VAC) supplements these fast and efficient semiconductors with optimized magnetic components and current sensors, which constitute a significant proportion of the reduction in weight. Dr. Simon Sawatzki, Product Development Inductive Components at VAC, said "We successfully managed to reduce weight and volume using innovative coupled inductors made out of nanocrystalline toroidal cores with low permeability — these are much more compact and have lower losses than conventional solutions. Another aspect is the development of broadband closed-loop current sensors, which also measure currents at the highest frequency range of GaN semiconductors to a high degree of accuracy."
TH Köln — University of Applied Sciences supplies the theoretical basis for the new magnetic components. The expected advantages should be validated when existing technology is used as a benchmark. "In new coupled inductor configurations, the use of advanced soft-magnetic tape is key to reducing weight in the targeted frequency and power ranges," explains Prof. Christian Dick, Head of Lab for Power Electronics and Electrical Drives.
The Bonn Rhein-Sieg University of Applied Sciences assesses the options available for developing the hardware and will incorporate the new components with the technology demonstrator. Prof. Marco Jung, Professor for Electrical Mobility and Electrical Infrastructure with a focus on Power Electronics and Head of the Power electronics and electric drive systems department at Fraunhofer IEE, says: "Especially the development of compatible control electronics for fast-switching GaN semiconductors represents a significant challenge."
Dr. Sebastian Sprunck, Group Manager Devices and Measurement Systems, is coordinating the project at the Fraunhofer Institute for Energy Economics and Energy System Technology IEE. "At the Fraunhofer IEE, our task is to investigate the newly developed components and to make their operation as efficient as possible. Using these new components, a technology demonstrator will then be set up in our laboratories, on which the function of the new technologies and the targeted weight reduction will be validated in practical use and further steps for optimizing the system will be derived."
The GaN-HighPower project is government-funded with the help of around €3.8 million from the German Federal Ministry for Economic Affairs and Climate Action (BMWK).
Technical Contact:
Dr. Sebastian Sprunck, sebastian.sprunck@iee.fraunhofer.de